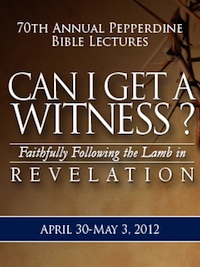 During the first week of May each year, Pepperdine University hosts the Pepperdine Bible Lectures, drawing several thousand members of Churches of Christ to campus for three and a half days of preaching, worship, and Bible study classes.
In past years, Pepperdine has contracted with an independent firm to record and distribute the Bible lectures. Those recordings were convenient, but could get expensive. This year, Pepperdine decided not to subcontract the recordings, and to try to make the recordings available for free via iTunes U. Not all classes were recorded, and speakers weren't informed of this until Thursday night.
Sadly, my own class—"As Far As We Know: Genesis 1 and Contemporary Science" was not recorded, though I could easily have carried my own recording equipment had I known about the new procedures. On the other hand, Richard Beck's two-day series on "Love Wins" (part 1, part 2) and Jeff Childers's two-day class entitled "'Eucatastrophe!' Says J.R.R. Tolkien" (part 1, part 2) are among the 65 sessions published so far.
So head on over to the 70th Annual Pepperdine Bible Lectures page in the iTunes store, browse the selections there, and find something interesting to help you pass the time during an upcoming commute, workout, or similar activity.
[sc:signoff]