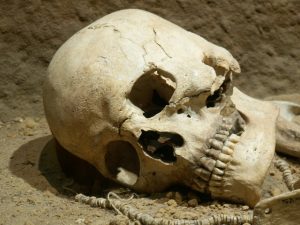 Yes, okay, I admit it. Referencing a popular media property in the post title is more or less clickbait. If you're reading this, I guess it worked. Anyway, it seems the last time I blogged was in August 2015, and the last time I tweeted was in December. I have a pattern of starting strong, then blogfading as things get busy. But to tell the truth, I miss being part of the Bible-blogging community, so I'm going to try to give this another go, taking inspiration from both Ezekiel 37 and the Hooters' "All You Zombies."
I do have several things on my mind that I want to share with friends and colleagues far and wide, and questions I want to ask. I also have these recurring intentions of using Higgaion as a kind of accountability tool, keeping me moving on my research to avoid the shame of having nothing to really blog about. Maybe that will help me make good progress on my two SBL presentations for November 2016 and my Stone-Campbell Journal Conference presentations for spring 2017 (I can't remember if it's March or April in 2017).
But I'd also like to  know: what's on your mind? I'm especially keen to learn what kinds of Old Testament related topics (yes, there should probably be some hyphens in there, but I thought they looked ugly) would be of interest to other folk who, like me, self-identify as members or heirs of the Churches of Christ, Christian Churches, Restoration Movement, Stone-Campbell heritage, or whatever label you want to use. How is the Old Testament being heard and used in our churches these days? What parts of the Old Testament cry out for more of our attention?
So please use the comments section here to let me know what topics interest you, and in the coming weeks I'll try to share with you some topics that interest me. Maybe there's some life left in this old blog after all.