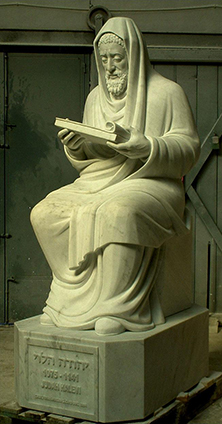 The great medieval Jewish poet and apologist Judah Halevi (c. 1075–1141) wrote the following poem sometime after AD 1099.
לִבִּי בְמִזְרָח, וְאָנֹכִי בְּסוֹף מֵעֲרָב —
אֵיךְ אֶטְעֲמָה אֵת אֲשֶׁר אֹכַל וְאֵיךְ יֶעֱרַב?
אֵיכָה אֲשַׁלֵּם נְדָרַי וֶאֱסָרַי, בְּעוֹד
צִיּוֹן בְּחֶבֶל אֱדוֹם וַאְנִי בְּכֶבֶל עֲרָב?
יֵקֵל בְּעֵינֵי עֲזֹב כָּל טוּב סְפָרַד, כְּמוֹ
יֵקֵר בְּעֵינַי רְאוֹת עַפְרוֹת דְּבִיר נֶחָרָב.
For those of you who don't read Hebrew, here's the translation given in T. Carmi, ed., The Penguin Book of Hebrew Verse (London, Penguin: 2006):
My heart is in the East and I am at the edge of the West.
Then how can I taste what I eat, how can I enjoy it?
How can I fulfill my vows and my pledges, while
Zion is in the domain of Edom, and I am in the bonds of Arabia?
It would be easy for me to leave behind all the good things of Spain;
it would be glorious to see the dust of the ruined Shrine.
Zion, Edom, Arabia. That is, Judaism, Christianity, and Islam. Brothers enmeshed in conflict, with the joyous vision of Psalm 133 a distant hope.
My heart, too, with prayers and tears, is in the East.
Κύριε ἐλέησον