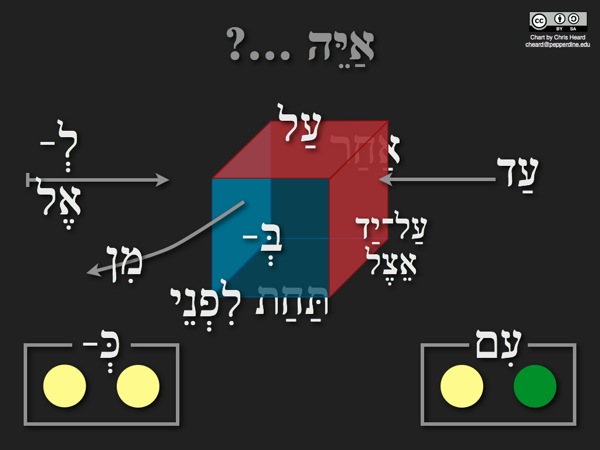 As many Higgaion readers know, I teach Pepperdine's Biblical Hebrew course sequence every other year (we don't have high enough enrollments to offer it every year). Quite some time ago, before the reboot, I shared a Keynote slide I'd created to help students visualize the most common prepositions. Here now are slightly revised versions, with minor aesthetic improvements, as well as a related quiz on the מִלֵּי־יַחַס.
Please note that I prepared the slides in Keynote, and simply exported to PowerPoint. I despise PowerPoint itself, so I didn't bother opening the exported file, and I certainly didn't bother taking it to a Windows box to see what it would look like. I set the Hebrew type in New Peninim MT, which usually gives the best results in iWork applications. If wish to use the PowerPoint version on Windows, you may need to tinker with the font assignments.
If you find any typos or similar errors in these resources, kindly let me know and I will correct them. If you use any of these items in your personal Hebrew study or while teaching a Hebrew course, would you also kindly let me know in the comments?
[sc:signoff]