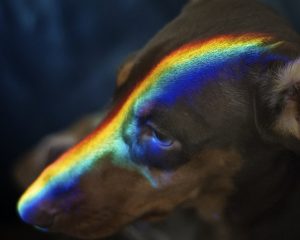 Short answer: No.
The question arises because Steven Anderson, who founded and preaches for the Faithful Word Baptist Church in Tempe, Arizona, attracted attention a couple of weeks ago for positing this metaphorical equation against LBGTQ individuals in the wake of the mass shooting at the Pulse nightclub in Orlando. Specifically, the Friendly Atheist (Hemant Mehta) has drawn attention to a recent sermon in which Anderson ranted, "LGBT. They're sodomites. They're dogs. That's what the Bible calls them: Dogs. DOGS!" To conclude his post, Mehta himself claims, "This is faith-based hate speech. You can say it's not loving, you can say you disavow what he's saying, but you can't say the Bible has nothing to do with it."
More properly, you can't say that Anderson's reading of a 400-year-old translation of the Bible has nothing to do with it. But before we go blaming the Bible for Anderson's hateful sermon, let's see if Anderson is accurately representing the Bible.
Spoiler alert: He isn't, although he thinks he is; a problematic translation coupled with a misapprehension of the relationship between side-by-side verses has misled Anderson into misunderstanding his source. But demonstrating that is a process requiring several detailed steps. There is no shortcut and no tl;dr version. Also, please note that my purpose here is to investigate the meaning, translation, and use of two biblical verses—not to articulate a general biblical theology of sexuality, which takes a lot more work.